E-Tiaris, the management solution for e-commerce
Thanks to E-Tiaris, a set of extensions to the Dolibarr Open-source ERP/CRM, diversify your company's sales channels and set up efficient dayly management processes adapted to your company.
Multiply your sales channels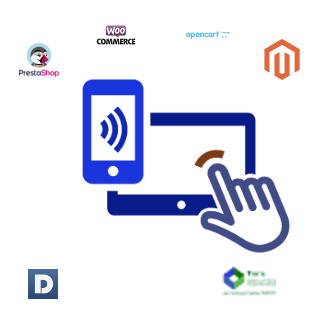 With E-Tiaris use any e-commerce system (PrestaShop, WooCommerce, Opencart, Magento) to offer online sales to your customers. Your daily management, centralized on the ERP/CRM Dolibarr will remain powerful and easy to use. You benefit from the power of e-commerce and the security of an ERP. You can then imagine all kinds of commercial actions to increase your sales and build customer loyalty.
Dispose of an efficient logistics
With E-Tiaris, you have the tools for the stages of the treatment of the customer orders, whatever their origin (e-commerce, commercial activity…). [The logistic functions of e-Tiaris are adapted to the processes of each company with functions such as stock locations, picking lists, reservation, drop shipping, click and collect …
Optimize inventory management
Stock management->98] benefits from advanced tools for procurement, assisted restocking and stock optimization. Automated stock synchronization on online stores with E-Tiaris ensures that all your products are available online for your customers.
Track your customers
Add new prospects to your prospecting base through your web page forms. Recontact them through marketing campaigns. Keep in touch with your customers by automating exchanges: sending documents, invoice reminders, proposal reminders…
Be equipped for the growth of your activity
Your company is evolving, e-Tiaris adapts to your needs and accompanies you. Change your e-commerce site, add a new online sales site, create a showroom, sell your products during events, change your logistic service, connect to a market place, add a new range of products from a supplier, use an external mailing or marketing service, add product manufacturing processes… E-Tiaris has already answered this kind of needs for its users, the solution will be able to adapt to your needs.